ZNA Potomac Quality Koi Trip April 2007
---
What a blast we had at Quality Koi in New Jersey!! The weather was calling for rain that day but it held off and
by early afternoon it was sunny and in the low 70's. We couldn't have asked for a more perfect day. I left bright and
early Saturday morning with another ZNA Potomac member, Tyrell, riding shotgun and my son Jimmy in the back. We
went up to Maryland House and met up with the Fradys, the Poppes and Margaret Linn. We then caravanned the rest of
the way to Quality Koi where another member and soon to be KHA, Terri Janas, was already waiting for us.
We then spent some time looking at the koi in the greenhouses before we toured the farm.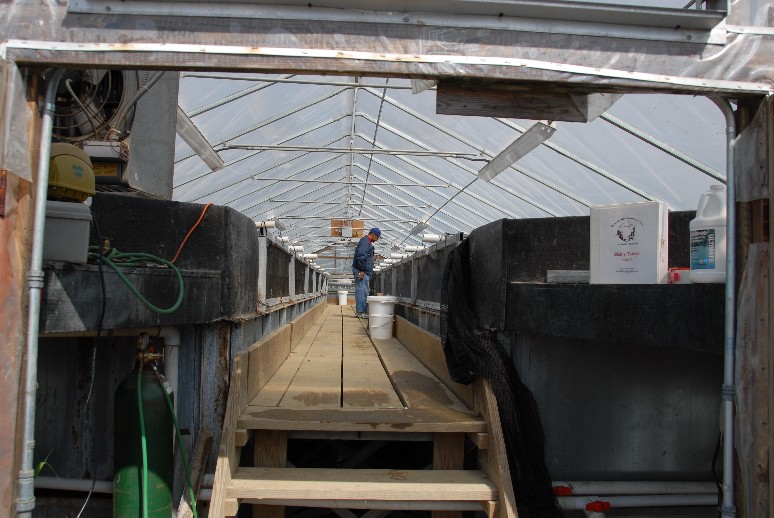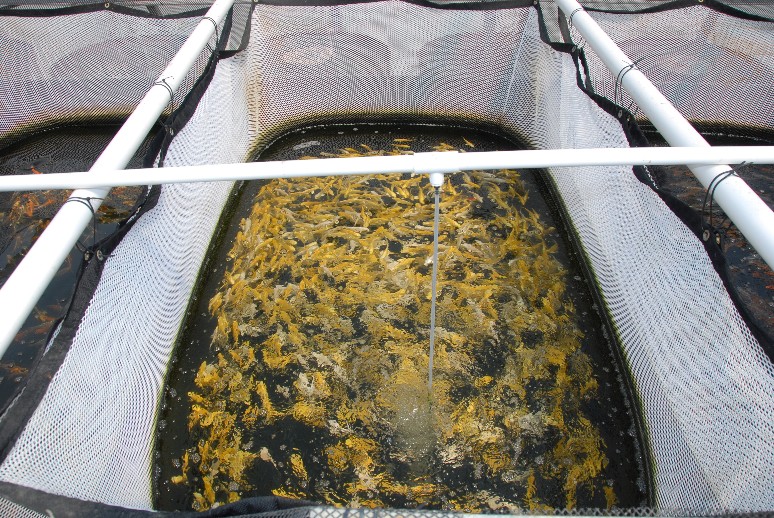 So next we off to see the mudponds. Unfortunately I didn't take notes but there are over 30 mud ponds. While we walked Mat and Ross of
Quality Koi explained how the farm worked and the ups and downs of koi breeding.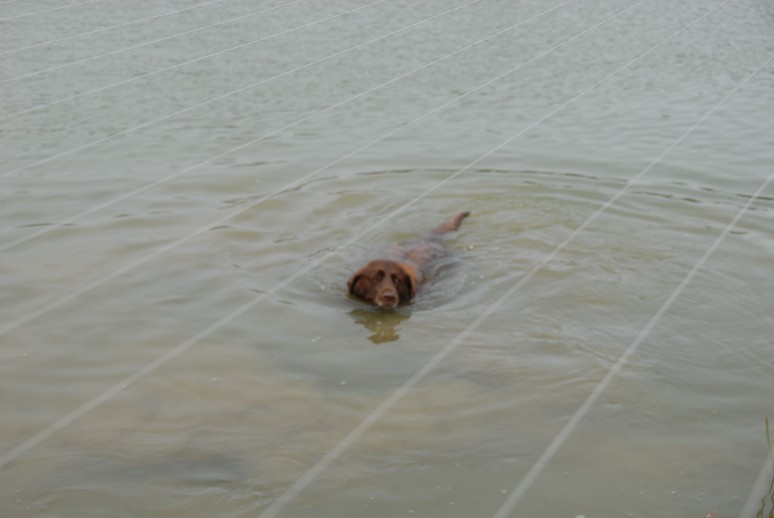 While after the walking tour it time to sit down and have some lunch. We had a very nice catered lunch consisting
of subs and chips. The location for lunch was a very interesting greenhouse that is in the middle of construction.
While we ate Mat explained some of the process of building and maintaining the greenhouses which was very fascinating.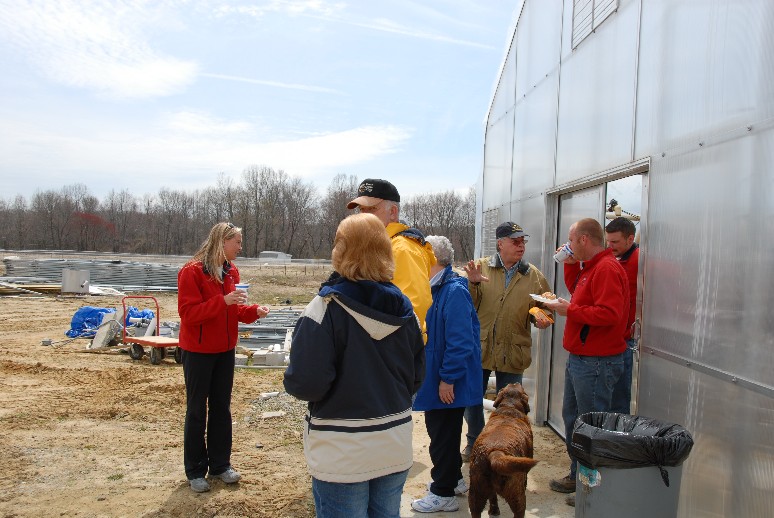 After lunch it was time for a culling session by Mat. They scooped up about 40 unculled sankes and the culling
began. This was a real education in learning the differences between total junk, pond quality, show quality and tategoi.
Of the 40 or so koi we culled about 30% were total junk another 50% were pond quality and the rest were show koi.
None of the koi we culled made it to the tategoi tank. Culling is an art with many variables. You have to take color quality,
sheen, body shape and pattern into consideration. It is something that clearly takes years to master and even then…..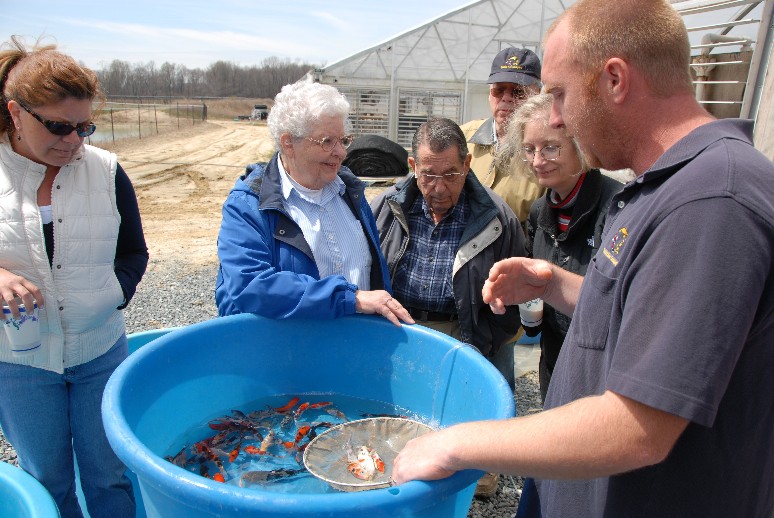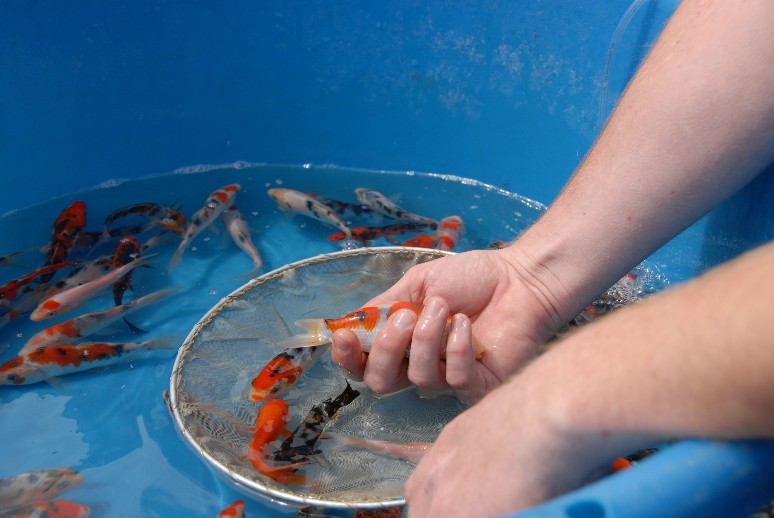 When the culling session was over we broke apart. Some went off to look for koi to buy while I went off to see
how one of the other new greenhouses was coming. Mat showed me how the massive filtration systems work for koi keeping
at a farm level. I was certainly impressed by the "bigness" of it all. After that I helped Terri Janas look for some koi
to buy. The kujaku pictured is now hers and is a fantastic example of the variety. I suspect this koi will do very well at
the shows in 2008 after it comes back from the mud ponds for another season. I, on the other hand did not buy anything
and believe me it was not easy (I was waiting for the annual 555 event).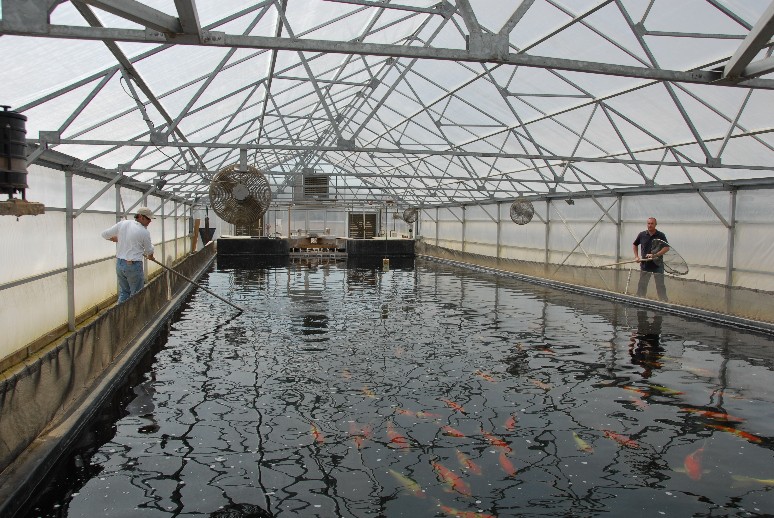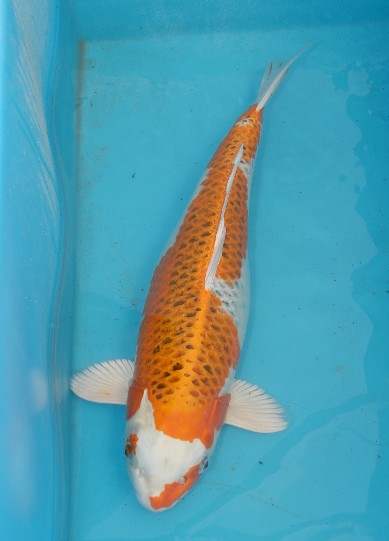 So after several hours of looking at koi and talking koi with our good friends at Quality Koi it was finally time to
leave (after all they were only open that day to accommodate us). We bid our fond farewells and hit the road for the
drive back.
For those of you that missed the trip I would suggest visiting their website at http://www.qualitykoi.com . Also
they will be at our show in September so you can see them then or feel free to go up there with me at the end of October
for the Main Event where they pull their mud ponds for the season.