October 2006 Pond Tour and Meeting
---
The October meeting of ZNA Potomac was one not to be missed! It was a gorgeous fall day as we started out at Vienna Aquarium. While there we spent time browsing the large selection on koi and koi products while indulging on brownies and cookies. We then left there for a short trip over to Chuck Wilson's house to view his amazing 60,000 gallon pond. He had two ponds with waterfalls and stream beds with amazing rock landscaping throughout. Many different varieties and sizes of koi were seen at this pond! After that we were off to view Glen Crispell's 4400 gallon pond. Although this pond was more modest in size it very beautifully constructed and maintained. The koi as always were a pleasure to view. Scheduling was tight so we were then off to Chuck Lockhart's to view the final pond of the day. This pond was very nice and also incorporated waterfalls with rock edging. Once again we were treated to some very nice koi. Then we moved on to Meadowlark Gardens where we toured the grounds to see if it would be a good place to host our 2007 Koi Show. After the tour we went to the picnic area and had some fantastic potluck food that was supplied by the membership. While we were all eating Mike Frady, club president, discussed upcoming events which include the December Holiday Party in which we will be collecting Toy for Tots. He also discussed a trip in February to Quality Koi/Nisei Koi Farms to view their operation. Another item we discussed was setting up a committee of volunteers to help out when fellow ponders have problems with there ponds and need our help. Below are some photos of the event. I hope you enjoy them!
Our starting location!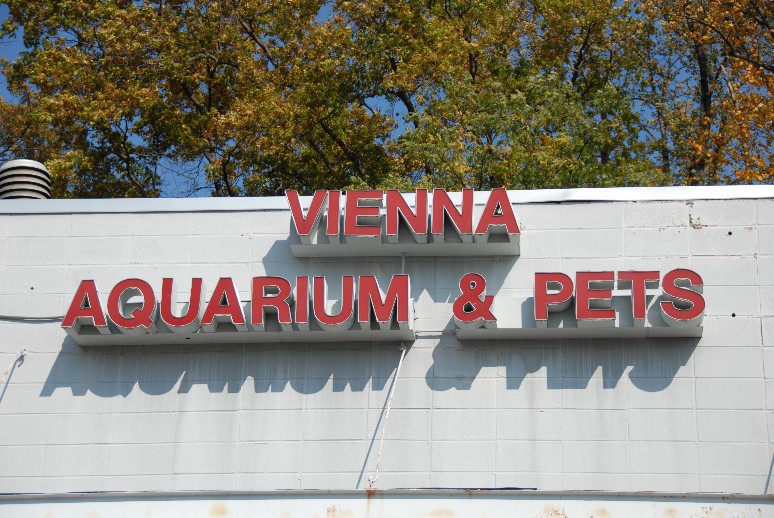 Here are some our members browsing the many product available.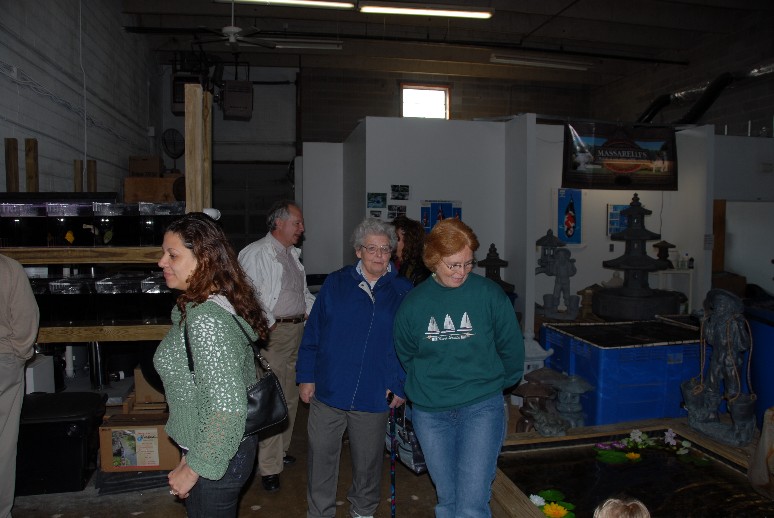 Need a bead filter? They have a selection of them for sure!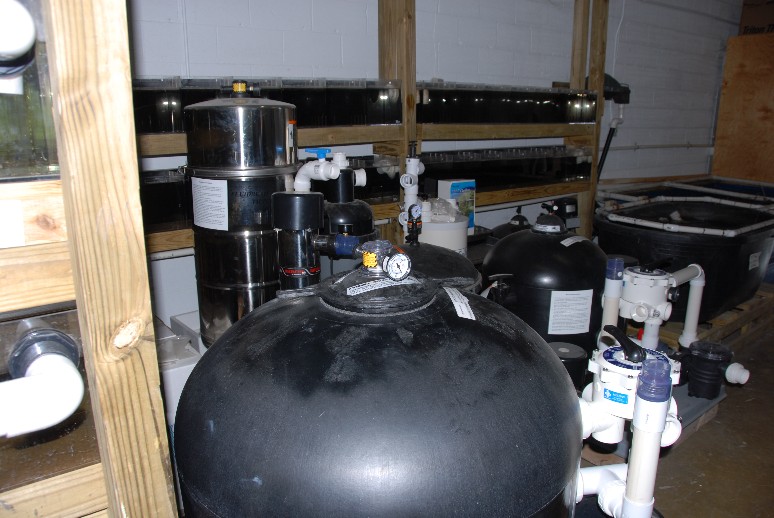 But its all about the koi so here is a sampling of some of what is available.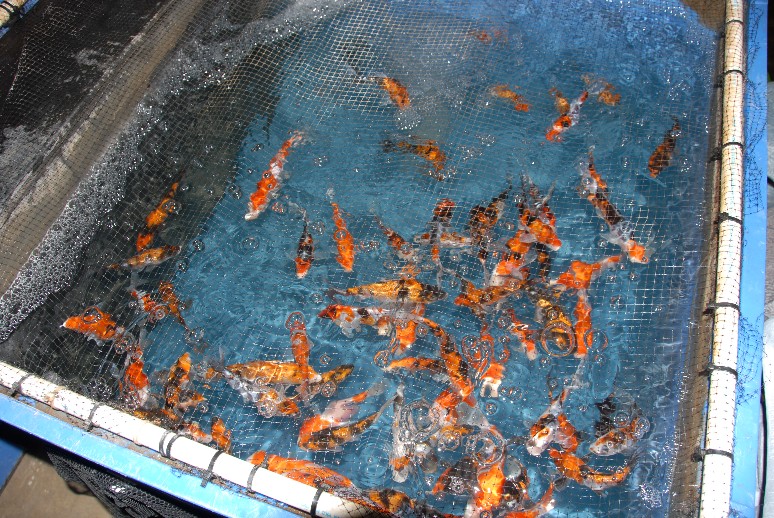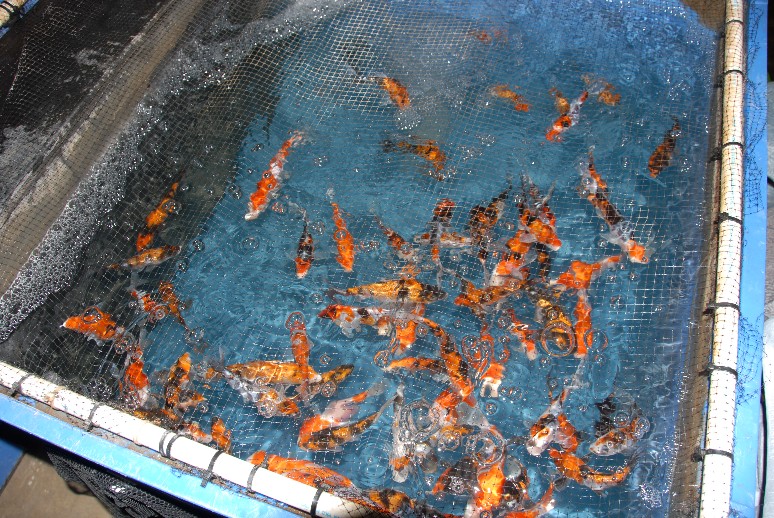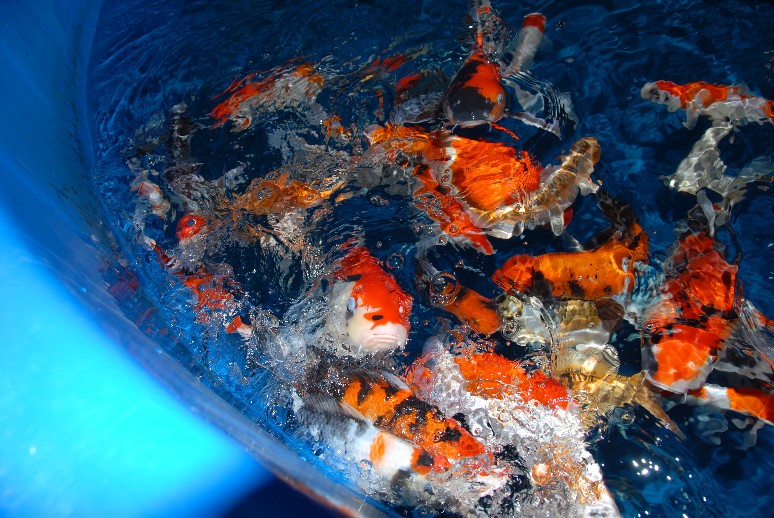 It was time to head off to Chuck Wilson's massive pond.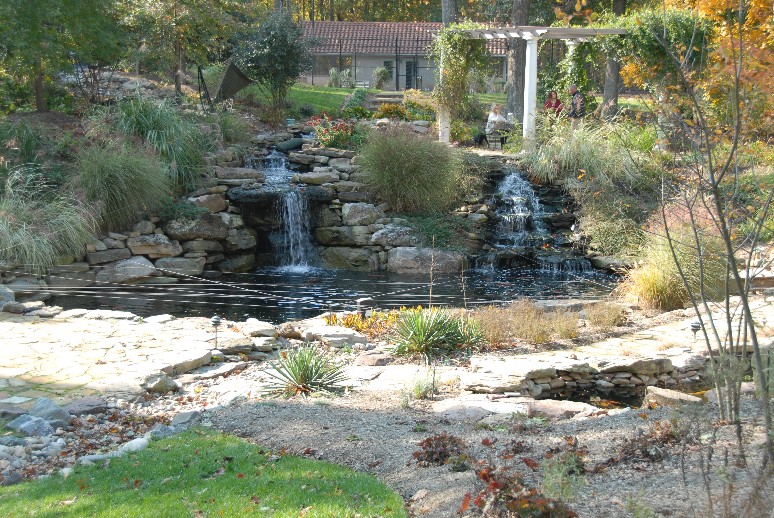 Mike Frady, Margie Linn and Karen Miller checking out some of the koi.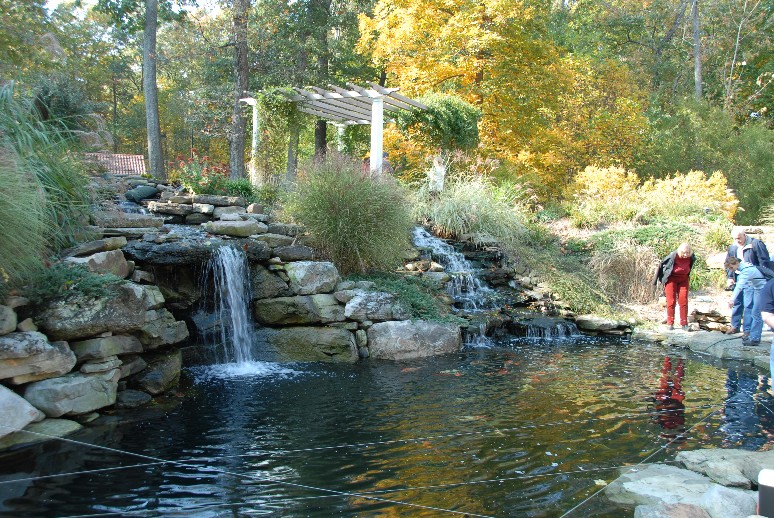 Here are a few shots of some of the koi living in this pond.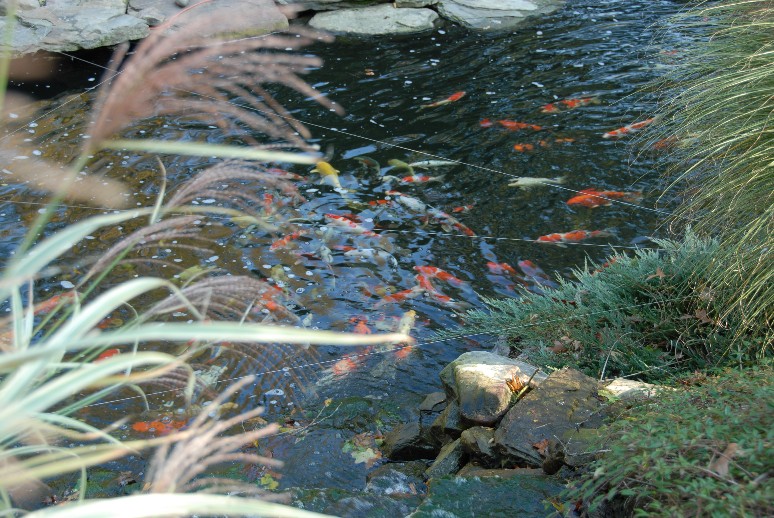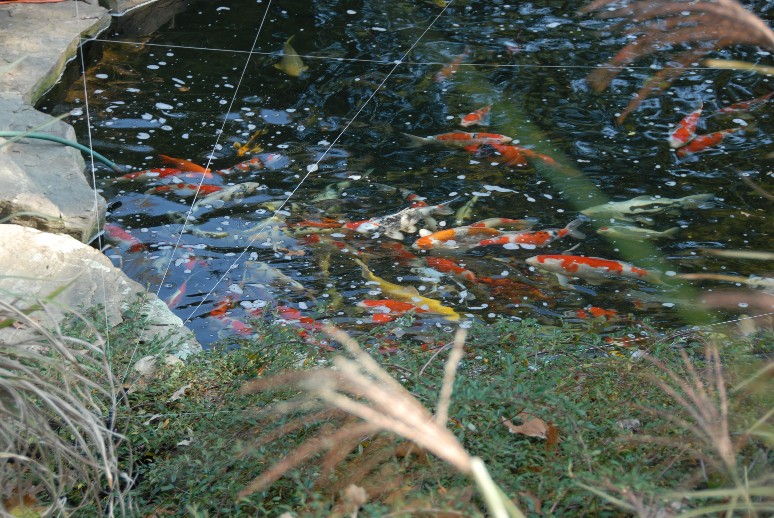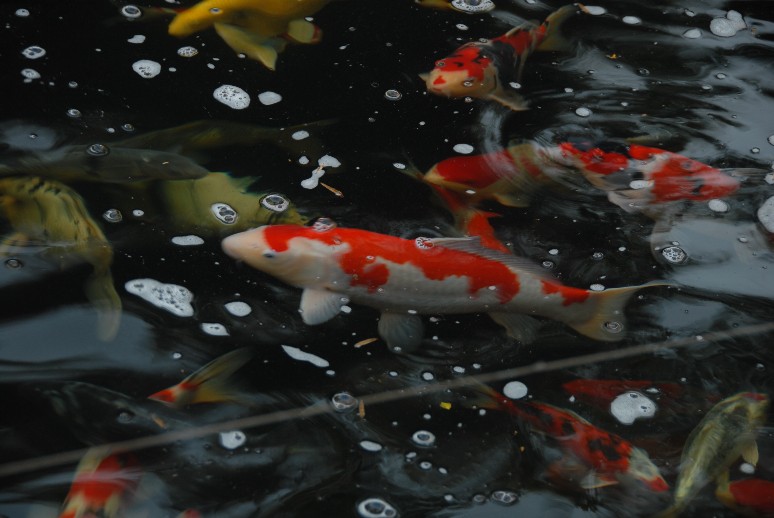 A look at the pond from above.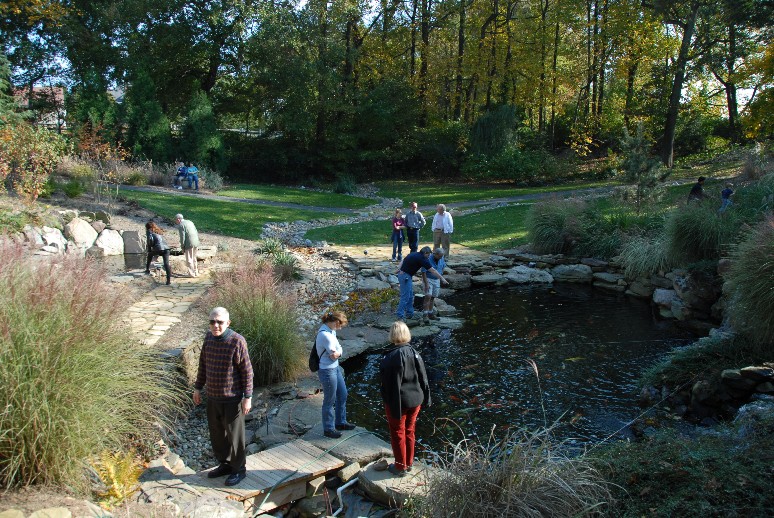 Mike Frady and Chuck Wilson discussing koi keeping...maybe.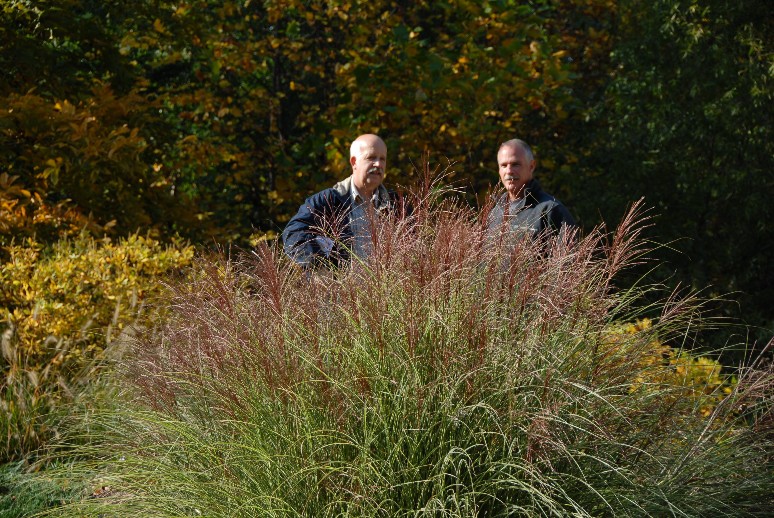 Watch out Margie, Mike and Karen! I think one of Chuck's Heron deterrent systems is hungry and has his eye on you for dinner!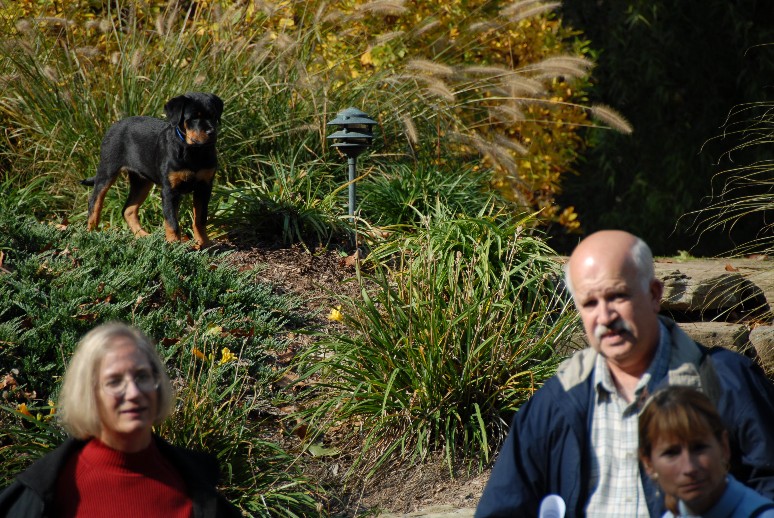 The filtration system for this pond is in the house. No worries about filters freezing here.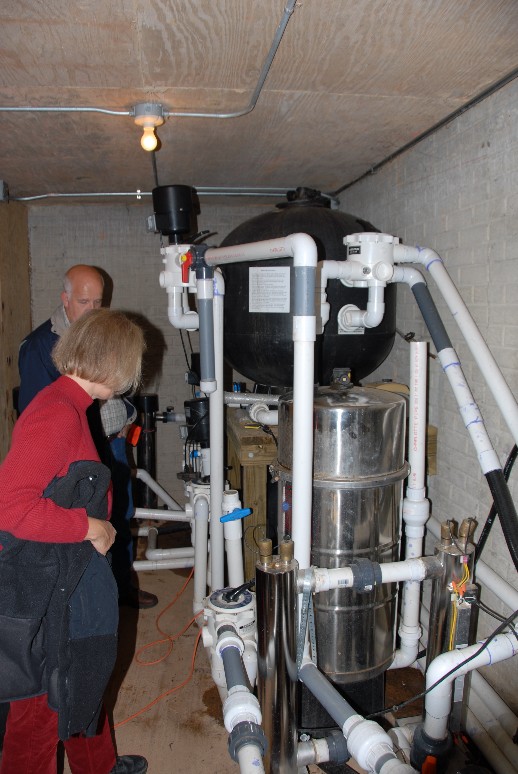 On to the next pond! Here we see Glen's pond.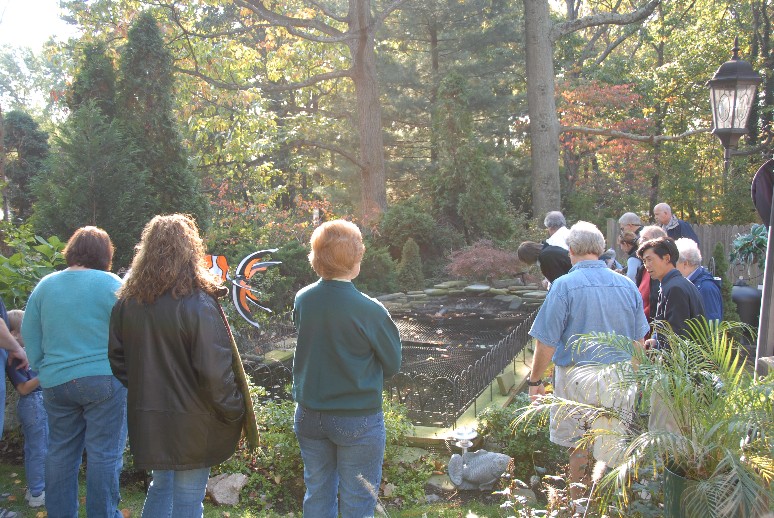 A well done waterfall with a very nice Japanese Maple. Note: It was turned off for better viewing of the koi.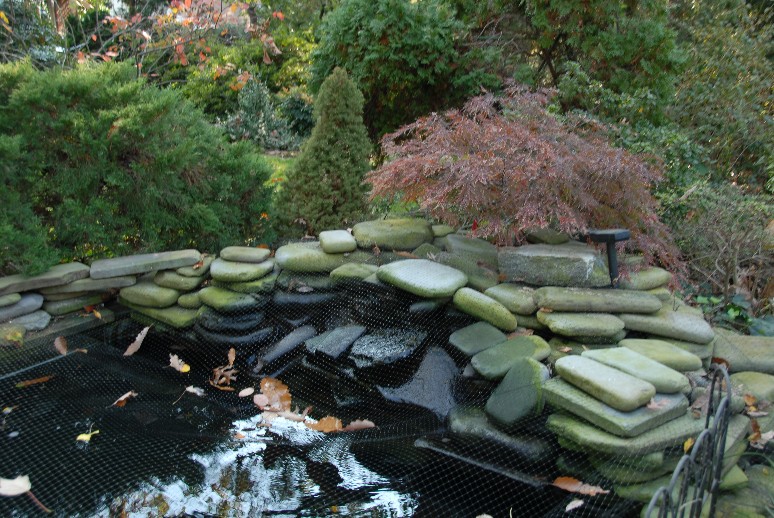 The owner, Glen Crispell, discussing his pond with the group. I'm sure he is glad that heron he has his hand on is fake!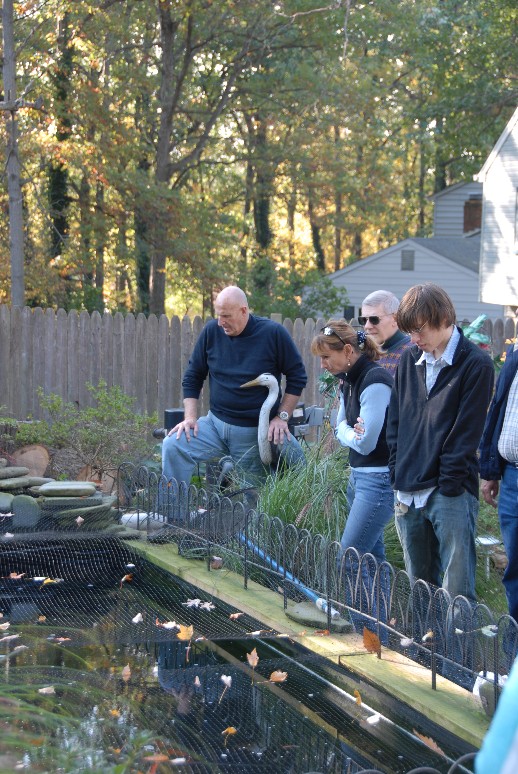 Here is a shot of Chris with his son telling us which koi he likes the best.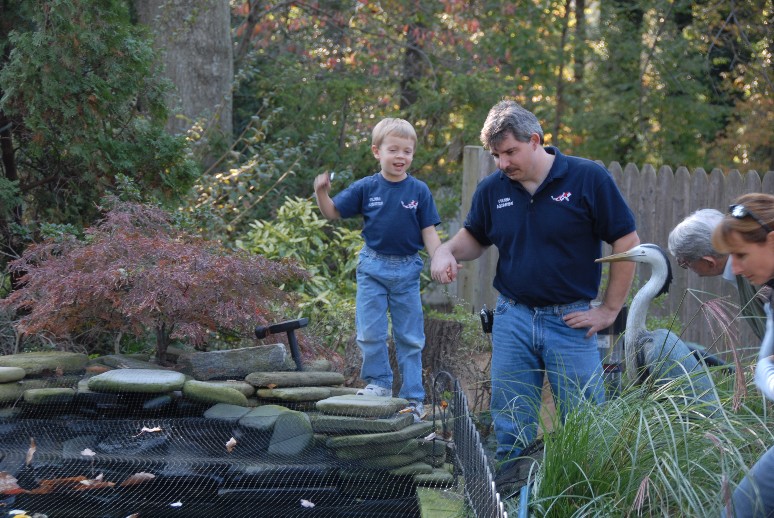 Dual bead filters handle the filtration on this pond.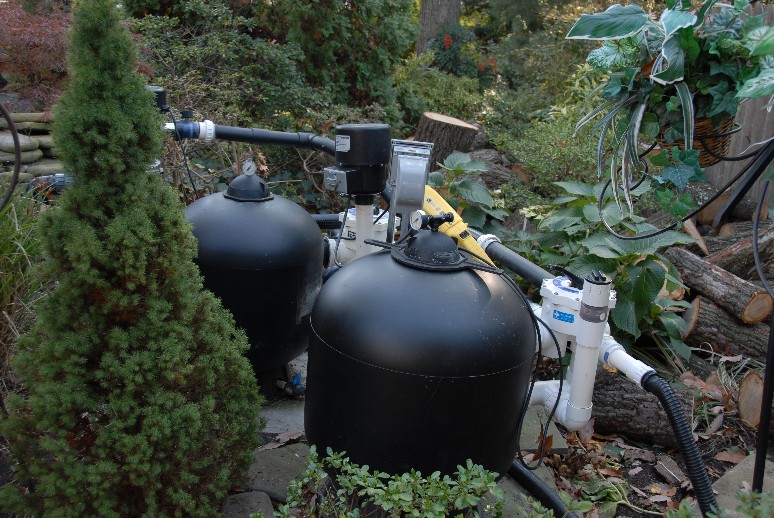 And finally a very nice selection of koi. My favorite was the tancho.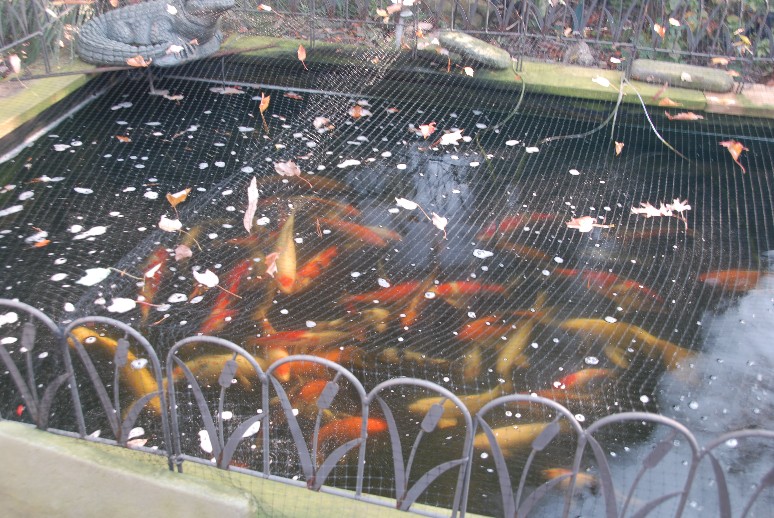 Time to move on to Chuck Lockhart's pond.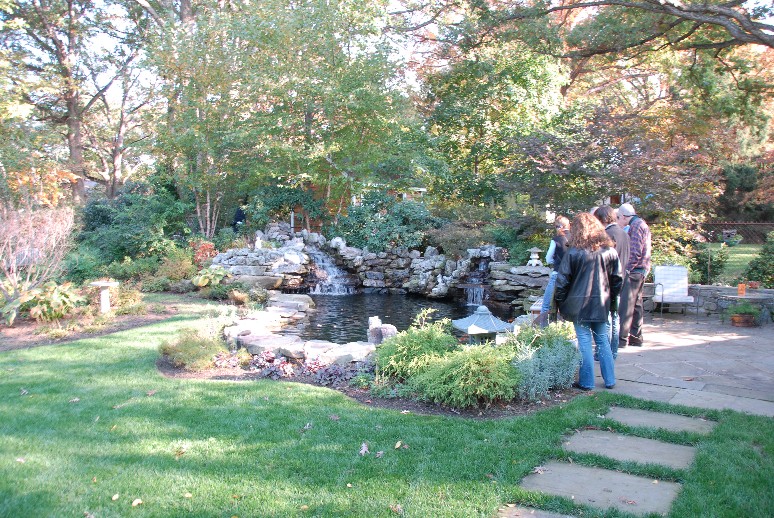 The owner in blue, Chuck Lockhart, discussing the settlement chambers with Rick and Mike.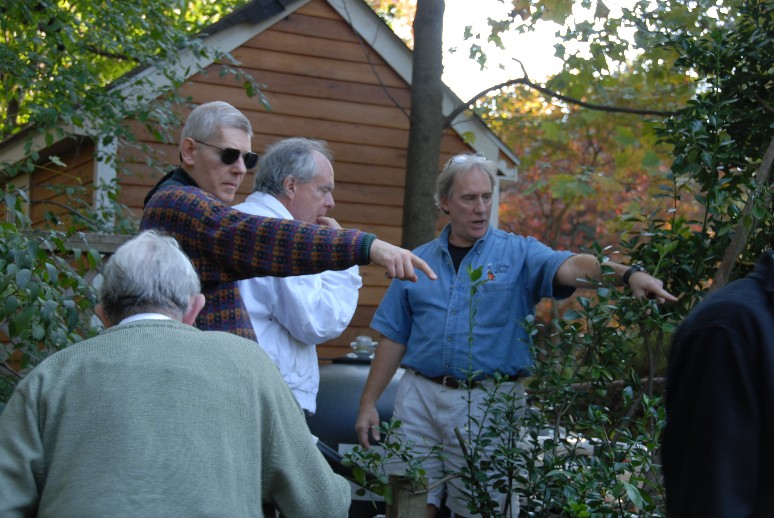 Speaking of filtration.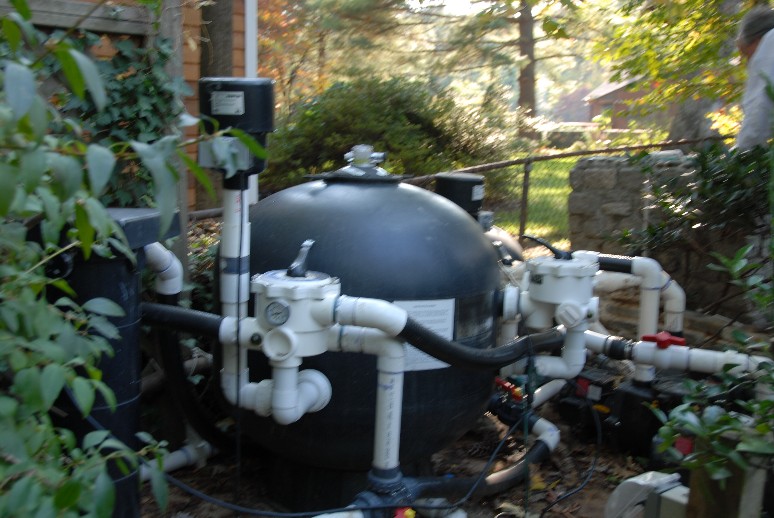 Young, the pond builder, pointing out some interesting koi.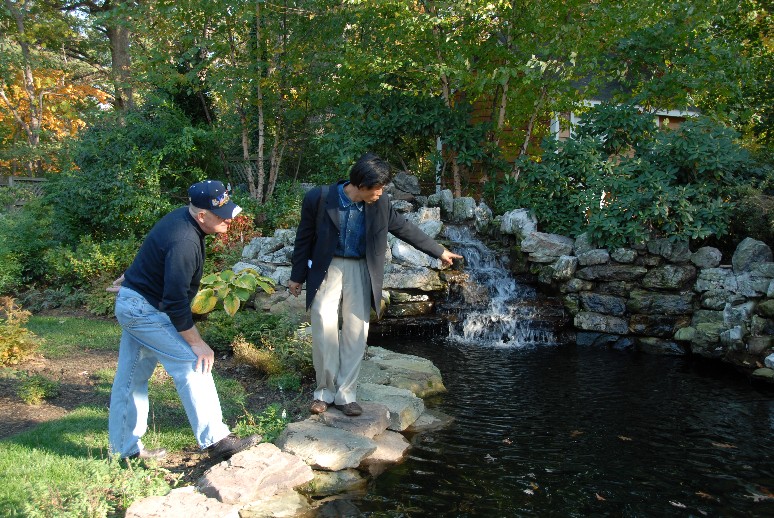 Here are a few shots of Chuck's koi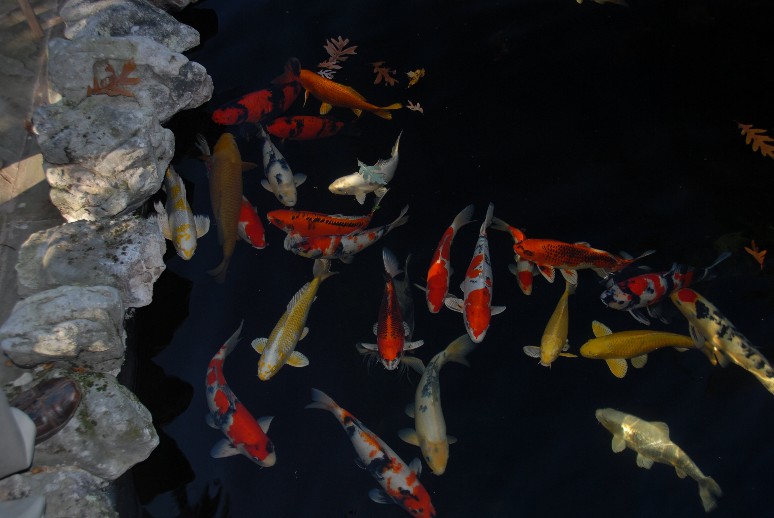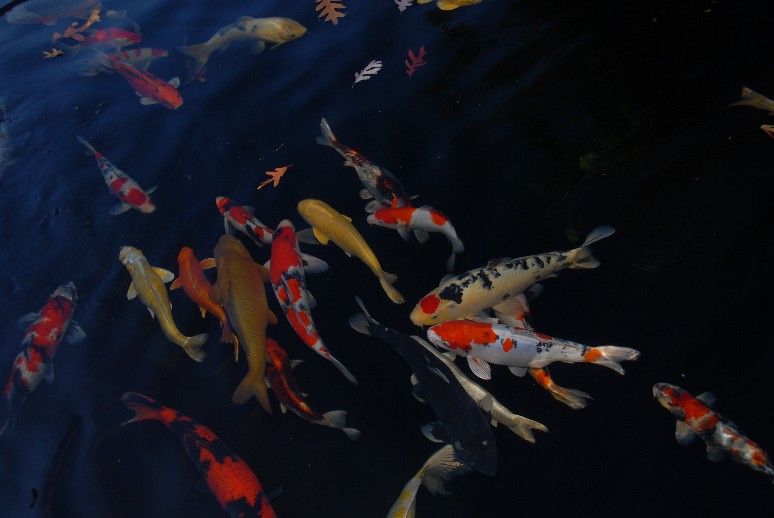 The pond tour was over and it was time to go to Meadow lark for our meeting and picnic.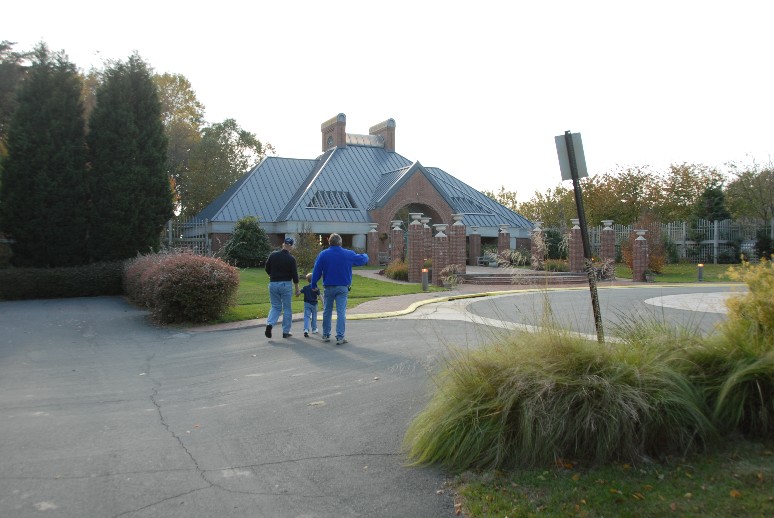 Inside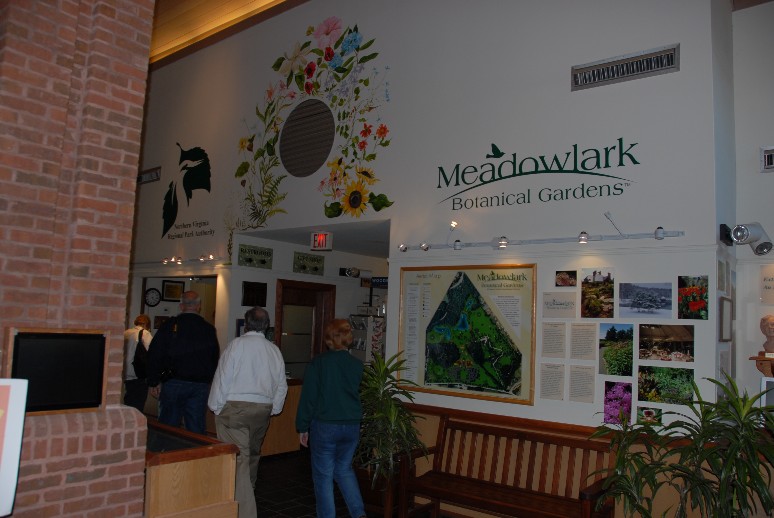 The proposed site for the 2007 Show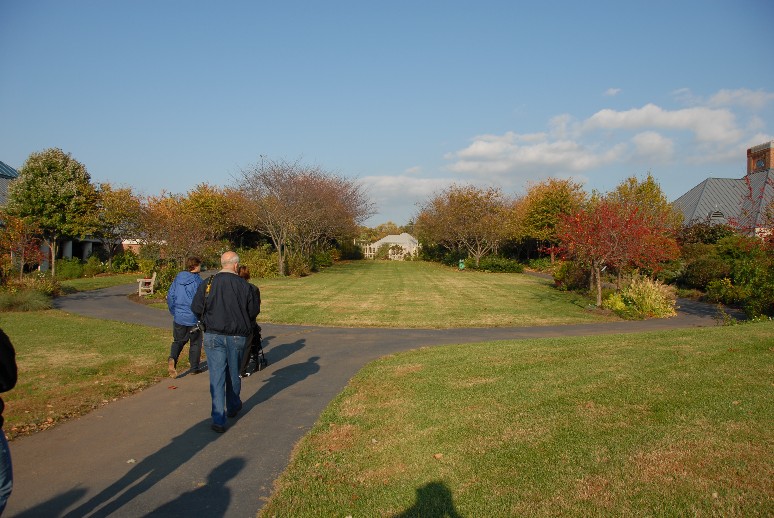 Time to enjoy some good food with some good friends!

Here is a shot of Mike doing his stand-up comic routine...ok he was actually discussing club items but it was very informative!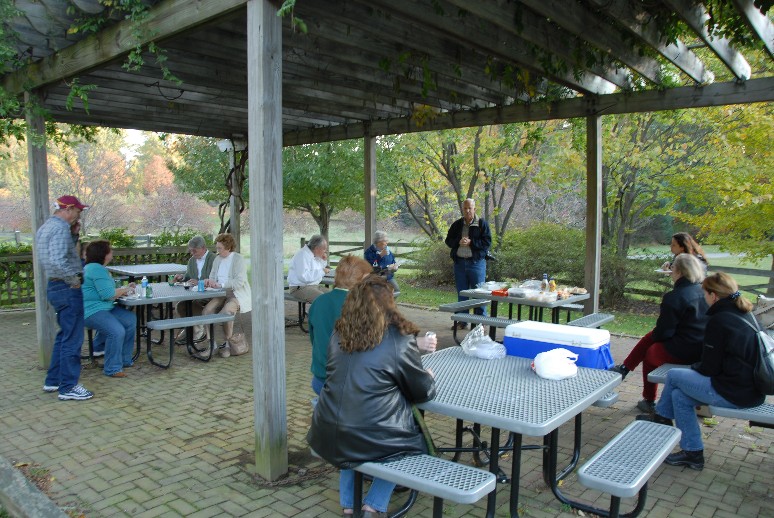 I hope you all enjoyed our pictorial log of the October 2006 meeting. I hope to see YOU at the next event!!!! Thanks!